SCCT urges members to take action on CMS proposed cuts

Submit comments by
Monday, Oct. 5
to fight a drop in Medicare reimbursement for CCTA
Proposed 2021 outpatient payments reduce CCTA again — for a total drop of 33% since 2017.
Last month, the Centers for Medicare and Medicaid (CMS) released the proposed payment rule for the 2021 Medicare Hospital Outpatient Prospective Payment System and Ambulatory Surgical Center Payment System (HOPPS). The proposed payment rate for the three contrast-enhanced cardiac CT codes (75572, 75573 and 75574) is $181.41, a decrease of $0.79, while 75571 increased by $2.35 to $82.15.
SCCT is strongly urging all members to submit comments to CMS by October 5 to illustrate the dramatic and detrimental effect that the failure to appropriately reimburse CCTA will have on patient care.
To help you prepare comments, SCCT has created a template with a suggested format, a sample letter and a list of potential talking points.
Please use the template to address aspects most important to you. Your unique experience and perspective, along with sound justification to support your position, is extremely valuable in a CMS comment letter. According to CMS: "A single, well-supported comment may carry more weight than a thousand form letters."
You need not comment on all the points addressed — SCCT's talking points are merely prompts and are not to be used as actual comments. Also, please make sure to delete the gray parts of the template letter which are suggestions/instructions on what you could consider commenting on; these are not to be used as actual comments.


Learn more about 2021 Medicare OPPS Proposed Rule
How to submit comments to CMS
Electronically – due by 11:59 pm ET on Monday, Oct. 5
Please refer to CMS-1736-P for the Outpatient Prospective Payment System proposed rule.
You can insert remarks directly into the comment box, or prepare a letter and upload the file to the site.
Please email SCCT a copy of your final submitted letter to cjohns@scct.org.
If you have any specific questions on your letter, please email

info@scct.org

.
A snapshot of professional and technical component reimbursement amounts for CCTA codes: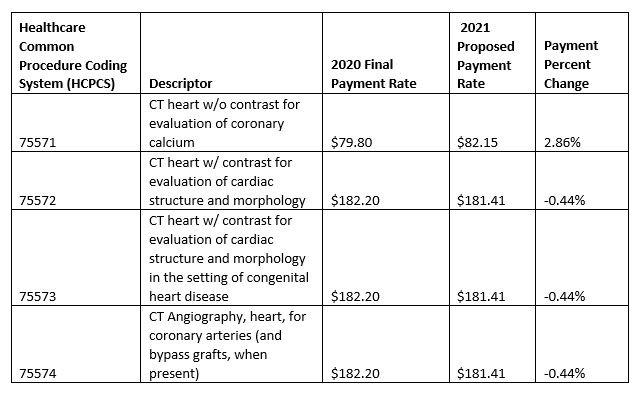 Thank you for helping us improve patient outcomes through the appropriate use of CCTA!
NASCI Statement On Strategies To Reduce The Scarcity Of Healthcare Resources During The COVID-19 Outbreak
NASCI's "Curious Cases" Webinars
NASCI is excited to announce our new monthly NASCI "CURIOUS CASES" WEBINAR series! Plan to participate on the first Tuesday of every month at 3:00 pm CST/4:00 pm EST in order to benefit from the top-tier education and discussion presented by your NASCI colleagues.
There is no fee to attend and participation does not require an RSVP
You are welcome to jump on when you can, jump into the conversation as you have something to share, and leave when you must
Click here to view the previous "Curious Cases" Webinars
The next "Curious Cases" webinar will be held on Tuesday, September 8, 2020. The sessions will be informal conversations as we share our best and most challenging cases with all of you, our friends. Don't miss it! Spread the word!
2020 NASCI VIRTUAL MEETING HIGHLIGHTS